Farm History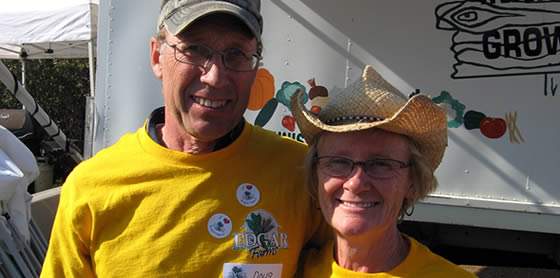 Some History…
In 1907 William Edgar Sr. and his family traveled north by covered wagon arriving at Innisfail where he had purchased a 320 acre homestead. Today, the original homestead is still in the family and the Edgar family has grown to six generations.
Currently…
Edgar Farms is currently owned and operated by Elna & Doug Edgar. Doug is a great grandson of William Sr. Elna also comes from a farming family being raised just 12 miles east. Both Doug and Elna went to Olds Agricultural college for post secondary education.
In the early 1980's with a young family of two daughters, Keri and Angie, we recognized that the farm could provide opportunities for our girls by growing garden vegetables for sale. After growing the entire line of vegetables on a small scale, we decided to specialize with just a few.
This has allowed us to expand our equipment and knowledge on our specialty crops. Growing non-traditional crops has given us more control over the marketing and allowed us to go directly to the consumer and satisfy our patrons wishes.
We have the largest asparagus operation in Alberta that produces the most tender, sweetest, flavorful asparagus you will ever taste – due to our cool climate and optimum soil conditions. Our short season for asparagus is approximately mid May until the end of June.
Asparagus is a perennial crop that is not normally grown in Alberta because it requires high heat units for optimum yield. After experimenting on a smaller scale, we felt that we could sacrifice yield for quality and flavor and the consumer would support our venture.
We also grow many acres of sweet fresh garden peas, sugar snap and snow peas, broad beans, yellow beans and green beans each year. Peas start producing about July 10th and beans start about August 10th and end with the first frost.
Pea tendrils are a new specialty, they are tender little baby pea plants that are an excellent addition to any salad. Available later May until early July each year.