Asparagus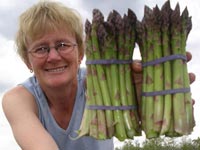 How Asparagus Grows
Asparagus is a perennial member of the lily family. The root (or crown) is planted in an 8 inch deep trench. After it is established, the trench is filled with soil to make the field level. No asparagus is harvested for the first 2 years. For the next two years, it is harvested for two weeks in spring when spears appear. In subsequent years we pick from early spring until the end of June. Picking must always stop by the end of June to allow the plant to grow into a fern so the crowns can store nutrients for winter. See the picture of Doug & Elna in front of the fern mid summer.
Asparagus is not commonly grown in central Alberta so we have no major disease or insect problems. Early in the spring we roto-till the entire patch shallowly right over the crowns to control weeds before and during picking. Very minimal weed control is used after we have finished picking for the season. No chemicals ever touch the asparagus you eat!
Picking
We start picking every year as soon as the first tender shoots appear (about the same time as the dandelions arrive) and pick for about six weeks. We have started as early as May 5 and as late as May 25. Every spear is hand picked just above the ground. As soon as possible after picking, we remove the suns heat by quickly chilling in ice cold water.
Crop report June 30, 2017
The 2017 Asparagus picking season is now finished for the year.
We do have a good supply of frozen Asparagus soup available.

Tender
We hand pick and snap each spear to ensure that you are purchasing only the most tender portion of each spear. The tough ends are left in the garden. There is no need to trim or snap our asparagus again. The thickness of the stalks does not affect tenderness. In fact, Elna prefers the thicker spears, because they are the sweetest.
Sweet & Fresh
Our cool Alberta climate produces extremely sweet asparagus. The purple color on the tips indicates very high sugar content. These sugars are retained by quickly chilling in ice cold water to keep the sugars from turning to starches. You are buying directly from our farm so no lag-time or warehouse storage ensures only the freshest, most tender asparagus.
Storing Asparagus
Stand the bundle of asparagus in 1″ of water in a jar in the fridge and cover loosely with a plastic bag. Our asparagus will keep in the fridge for at least one week.
Asparagus Soup
We make and freeze asparagus soup to allow our customers to enjoy our asparagus year round. Available in a convenient 500 ml. frozen packages. Just equal amounts of our asparagus puree and the liquid of your choice – water, milk, cream, chicken stock, coconut milk, almond milk, etc. Simply heat and serve with optional fresh ground pepper, and a sprinkle of your favorite sharp cheese such as Blue or Parmesan. Enjoy.
---
Please contact us
We would love to have you come to our farm and see our rather unique operation!
Guarantee
We are so sure you will absolutely love our asparagus that we offer a money-back guarantee. If you are not completely satisfied with your purchase please return it for a full refund.