Welcome to Edgar Farms
As of May 1,2017 our farm store is open for the season. We are open from 8:00AM until 8:00PM 7 days a week. A lot of our products are also available at the Innisfail Growers stall at several farmers markets throughout central Alberta Our preserves, and our fermented vegetables are available at Big Bend Market in Red Deer. Our Natural Fermented Vegetables are also available at Nutters in Red Deer,Health Street in Olds and Best of Health in Innisfail. Our preserves are also available at the Innisfail Co-Op food store.

Stop by our farm store and get some home made preserves, most all cuts of our frozen beef or even a home made pie to take home and bake.
 
Our farm store will be open until about the end of September 2017 weather permitting.


Upcoming Events


Hours & Location
GPS Location
N 51.99810 W 114.11667
+51° 59′ 53.16″, -114° 7′ 0.01″
Hours
Mon-Fri: 8am-8pm
Sat-Sun: 8am-8pm
Address
1465 Twp. Road 352, Red Deer County, Alberta T4G 0M8
(403) 227-2443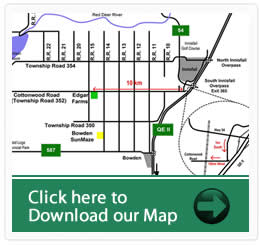 About Us
We grow market garden asparagus, peas and beans as well as traditional crops and beef cattle on our sixth generation family farm. Our unique central Alberta location provides the ideal soil conditions and cool climate to produce the sweetest, most tender, flavourful freshest produce you will ever taste.
We offer in season farm-gate sales of our asparagus, peas and beans plus the full line of Innisfail Growers locally grown produce.
We are the proud recipients of the Alberta Farm Fresh Producers Association, Farm Direct Marketer of the Year.