Country Store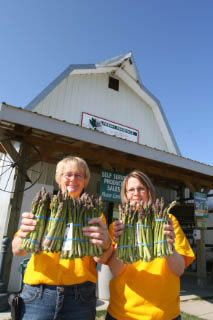 Our Country Store is all about home grown goodness.
Country Store update July 31, 2016

Our farm store is open for the season. Now picking fresh daily: shelling peas, spinach, swiss chard, zucchini, lettuces, beets and greens, kale, green onions, broad beans, and more. We have Beck Farms carrots, kohl rabi, broccoli,  Upper Green Farms potatoes. Also, our home raised Angus beef, preserves, frozen pies, frozen soups, frozen peas and more. We are finished picking fresh asparagus for 2016.
We accept Debit Cards,Credit Cards, or even Cash at our store.

Open 8:00 AM until 8:00 PM seven days a week through until September 30. 
Call Elna at 403-350-0659 or Keri at 403-318-6182

We offer farm-direct seasonal farm gate sales of our home grown sweet and tender asparagus and many other veggies.  In the freezer, you can pick up Edgar Farms home raised, hormone- and antibiotic-free, grass fed Angus beef.  Also there are asparagus and other homemade soups and ready-to-bake homemade pies. The preserves shelves are brimming with a large selection of handmade preserves using traditional recipes and our own home grown ingredients. We do not use any artificial colors, flavors or preservatives.
Open seasonally from approx. May 15 – September 30
8:00 AM – 8:00 PM
Our produce and preserves are also available through Innisfail Growers at Farmers Markets throughout central Alberta. Check out www.innisfailgrowers.com or click on the link at the top of the page for more information.
Off season by appointment
Everything is natural as it should be.