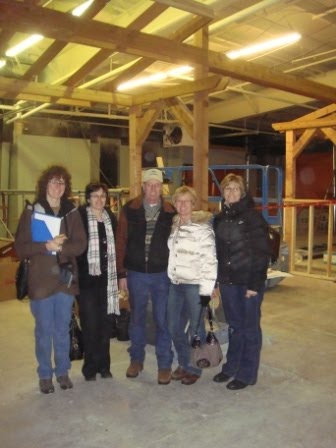 Tonight was Elna and my first look at the new Calgary Farmers Market building and our stall. After listening to all the naysayers about how bad every thing was about this new market we were really impressed with the whole thing. It has a lower ceiling than the old building which gives it a different look, but as with anything when you get to do things a second time you certainly improve on the old one.
Our booth is right across from a large coffee booth and is right around the corner from the food court. There will be at 2 main entrances and we are quite close to the south one. We still have three stalls as before but they are each a bit larger so we will more space in our new booth. We also have a small garage door on the back side of our booth that opens up onto a patio outside to display even more product when the weather is nice in the summer.
One of the concerns has been parking and access to the market. The manager of the market told us this evening that they have 644 paved parking spots on site and another 200 within a half of a block of the market. They also have secured summer parking for the vendors at a school parking lot right next door. The market as part of their development permit with the city has had to put in a new right turn lane on the street leaving the market and the city will also be changing one of the access roads to one way to improve traffic flow. Hopefully they know what they are doing but so far it sounds like they are the right track.
We see a lot of the old vendors are at this market with many of them expanding their stalls. Also we see some new vendors coming in adding more excitement to the market.
The plan is to open on February 4th if every thing falls into place. Presently there is some issues about getting some parts for the electrical service, but if that comes through every thing should open on time. If the parts are delayed there could be a delay in the opening date, but right now everyone has their fingers crossed. We all would like to be back at the market taking in money rather than spending money as we are now.