Angus Beef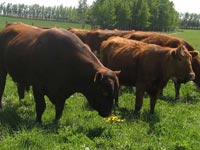 Raised Naturally for Superb Quality
Our beef is home raised; we can trace every one of our animals from conception to dinner plate. Our animals are fed only forage and grain grown on our farm at Innisfail Alberta. You have our personal guarantee that our beef is completely free of hormones, antibiotics, meat by-products and pesticides. Our animals are not raised in a "factory-farm" feedlot-type environment. The animals are allowed to graze the pastures on our thousand-acre plus farm rotationally and are finished on barley grown on our farm for the maximum flavour and tenderness. Every one of our animals is raised with the utmost care and kindness.
Life can't have too much flavour! Angus Beef has medium to fine natural marbling for exceptional taste with every mouth-watering bite. It is always flavourful, juicy, of consistent quality and melts-in-your-mouth tender!
Prepared the Traditional Way
Edgar Farms Angus beef is aged a full 21 days for maximum tenderness and flavour, then cut at a local, government-inspected facility. Immediately after cutting, our beef is flash-frozen and vacuum shrink-sealed to lock in its exceptional flavour, colour and texture, and to lock out bacteria. When you purchase our frozen beef, you get the convenience of being able to enjoy it at any time and the assurance that the product you are consuming has been preserved at the peak of freshness!
---
Convenience
Our beef is available for purchase at the Innisfail Growers booth at the Calgary Farmers Market. It is also available at our Country store during the summer months when our store is open or any time all year by appointment at our farm.
Guarantee
We are so sure you will absolutely love our meat that we offer a money-back guarantee. If you are not completely satisfied with your purchase please return it for a full refund.