Peas & Beans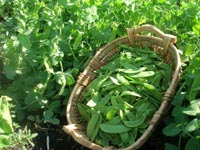 At Edgar Farms our summer specialty is sweet garden peas. All our peas are handpicked and chilled in ice cold water very quickly after picking. This chilling process keeps the sugars from turning to bitter tasting starch, thus retaining that fresh from the garden sweetness.
We try to have a consistent supply of daily freshly picked peas from early July through until the first hard frost in the fall. Over the years we have perfected the timing of the numerous plantings of early, mid season and late maturing varieties that we plant every spring.
Frozen Peas. During pea picking season we blanch and  freeze our delicious sweet peas for your enjoyment all year. Available at our Farm, The Calgary Farmers Market at the Innisfail Growers booth, Nutters Natural Foods Red Deer, and Big Bend Market in Red Deer.
Frozen Sweet Green Pea Soup. In season we also make frozen sweet green pea soup. It is made with our same delicious sweet peas blended into a soup base. Just add milk or cream, heat and serve.
Sorry, we will not be offering any U-Pick peas this year.
Crop Update May 10, 2017
We have been planting peas for a month now. The early plantings have emerged and are looking great so far. 
Along with our peas we also grow…
Sugar Snap Peas
These are the ones that have a much thicker pod wall and develop round and firm at maturity. Pods "snap" just like a fresh green bean. These peas are excellent eaten pod and all, our preference is raw, but they can be cooked as well.
Snow Peas
Are another of our crops, they differ from sugar snap peas in that they are picked when the pods are quite flat and the peas are just starting to form.
Pea Tendrils
Are the young leaves and shoots of snow pea plants. They taste like a cross between peas and spinach. The Chinese call them dau miu, and often use them in soups and stir-fries. Look for them every year in June. They also make an excellent addition to salads.
Did you know that dried peas were found at an archeological site near Thailand and have been carbon-dated to 9750 BC? In those times, peas were dried and used in soup. Eating fresh peas became fashionable in the 17th century among members of the French court.
Broad Beans
Simply shell them and then after cooking if you remove the bitter outer shell of each broad bean kernel, you will be rewarded with two delicious sweet coins of bean.
Yellow and Green Beans
Usually will be ready for harvest around August 5 and we will pick until the first hard frost in the fall. Beans freeze very well; we do recommend blanching them first. Blanching stops the enzyme action (ripening process) and retains freshness. Pickled beans are delicious. We make dill & garlic as well as peppercorn flavours.
---
Guarantee
We are so sure you will absolutely love our peas & beans that we offer a money-back guarantee. If you are not completely satisfied with your purchase please return it for a full refund.