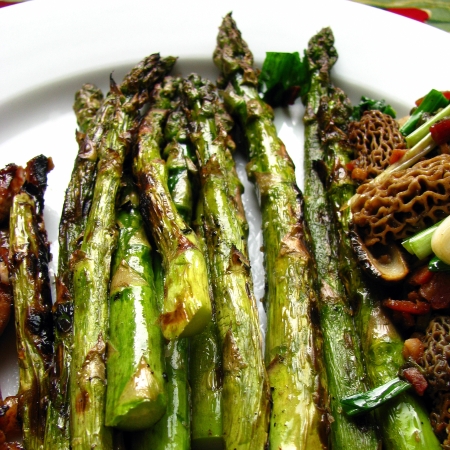 This is our daughter, Angie's favorite asparagus recipe. It is very easy, but also very impressive. Angie & her family live in Fort McMurray. Every spring we send her batches of asparagus. The best way we have found to get fresh asparagus to her is through a very kind man who works in Fort McMurray that visits our booth at The Old Strathcona Farmer's Market in Edmonton on Saturdays. We send several bundles with him and he delivers fresh asparagus to her. How lucky is that?
Ingredients
24 Edgar Farms asparagus spears
2 Tbsp. extra virgin olive oil
¼ tsp. freshly ground pepper
12 thin slices prosciutto
12 slices provolone or havarti cheese
Directions
Preheat BBQ or grill to high & lightly oil. Toss asparagus with olive oil. Wrap 2 asparagus spears with a piece of cheese, then a piece of prosciutto, allowing ends of asparagus to be exposed. Place on grill, close lid and cook, turning often until asparagus turns bright green and is tender-crisp.
Alternatively, place on cookie sheet and bake uncovered at 450F for 6 to 9 min. rolling around a few times.